Tudor Walks
The popular Tudor walks around Old Amersham start again after their winter break on Saturday 27th April.
You will learn about life - and death - in Amersham 500 years ago. Who was John Leland and what did he think of Amersham in 1544? The walk stops in about 8 places especially relevant to our story, where you will be told about markets and fairs, food and drink, clothing and work, language and customs, health and religious beliefs. Why were six men and one woman condemned to be burnt for their beliefs? Where do the 'weak go to the wall' ? Who haunts which inn and why? Is the High Street Tudor or Georgian - look for the evidence.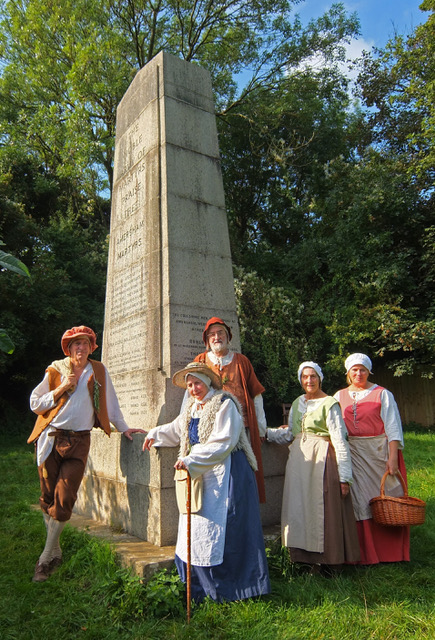 The walk is led by guides in 16th century costume and includes a climb through the fields (taken slowly!). It starts at 2.30 pm at the Amersham Museum (49 High Street) and will last about 2¼ hours (although a short cut is possible towards the end). Cost £3 adults, children free. No need to to book - just turn up, whatever the weather.
And if you can't manage 27th April, the walks are repeated on the last Saturday of every month until the end of September.
Dr Peter Borrows
Troye Cottage, 32 Whielden Street, Amersham Old Town, Bucks. HP7 0HU
Tel: 01494 728422 Mobile: 0773344 3694
You can see a history of Troye Cottage at http://amershamhistory.info/research/other-articles/house-history-detective/
Good teaching is about showing sufficient light so that children can continue the journey. (David Jinks)
---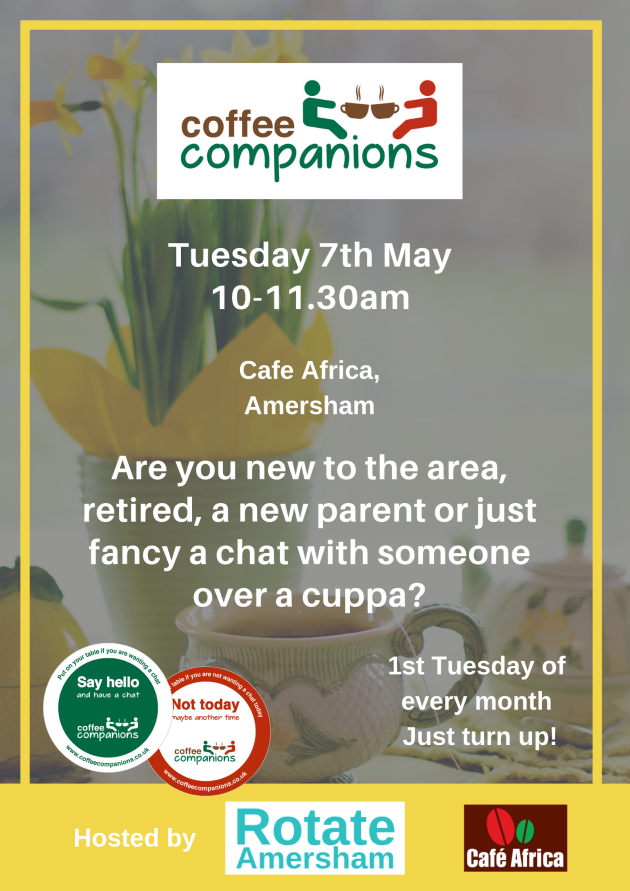 Rotate Amersham are hosting another 'Companions Hour' at Cafe Africa on 7th May. It's a great way to meet new people and Cafe Africa are offering a 'drink and cake' deal. Come along anytime from 10-11.30am on the 1st Tuesday of every month.
---

If you want to cycle more but could do without the hassle of route planning and punctures, HSBC UK Guided Rides is for you.
All you have to do is bring your bike and pedal. Our Ride Leaders do the rest.
It's easy. It's free. You'll meet new people, improve your fitness, and get more confident on your bike.
So what are you waiting for?
If you're in need of inspiration or encouragement to get out and explore your surroundings, look no further than our amazing Ride Leaders.
They know their local areas like the backs of their hands, so whether you're looking for a spectacular viewpoint or a nifty shortcut, there's nobody better to ask.
All of our Ride Leaders are trained by British Cycling to provide a safe and enjoyable experience for all riders, and will be on hand to offer support and guidance throughout the ride.
Follow this link for the next ride starting in Amersham:
https://www.letsride.co.uk/rides/amersham-breeze-round-the-chiltern-villages-6or go to: https://www.letsride.co.uk/guided-rides

---

Hatfield Town 0: Amersham Town 0.
This was a typical game between two teams at the bottom end of the table. Coherent moves were few and far between, made all the more difficult by a bumpy pitch, and goalmouth incident rare.
Amersham had the better of the first half. Their best chance fell as early as the fourth minute. A long cross from the left by George Armstrong fell invitingly onto the head of the unmarked Ash Higgins six yards from goal but he put his header over the bar. Six minutes later Hatfield's Guy Hammersley burrowed his way through the Amersham defence and it needed a flying save from Amersham keeper, Dave Turner, to deflect the shot past the post.
A couple of half chances then fell to Amersham. From an Amersham corner, the ball was deflected into the air and Higgins volleyed just wide of the far post. Then, from a ball from the right, a clever Higgins dummy presented a shooting opportunity for Kai Stonnell but he dragged his shot wide.
If Amersham felt that they should have gone into the break at least one goal to the good, they were grateful to some poor finishing by Hatfield in the second half. After ten minutes a through ball put Matt Noot clear on goal but he lobbed wide as Turner came out. With nineteen minutes remaining Hatfield came within six inches of winning the game. A cross from the right was cleared by the Amersham defence to Chikosi Basden about twenty yards out. His fierce drive appeared goal-bound but smashed against the junction of post and bar and was cleared.
With both defences in control clear chances were then few and far between. Although both attacks huffed and puffed in reality they did little to trouble either keeper. Hatfield came closest to breaking the deadlock when a header from beyond the far post looked as if it might drift into the net but Turner was able to get a hand to the ball. At the other end Hatfield keeper, Jaidan Doocey was unemployed throughout the second period.
Amersham have another six pointer next Saturday away to Codicote.
Amersham Town: Turner, Kelly, Mistretta, Peacock, Hagan, Aldridge, Doumbia, J Squires-Adams, Higgins, Stonnell, Armstrong. Subs: Putman, Andrew, Benvenga. Seaton.