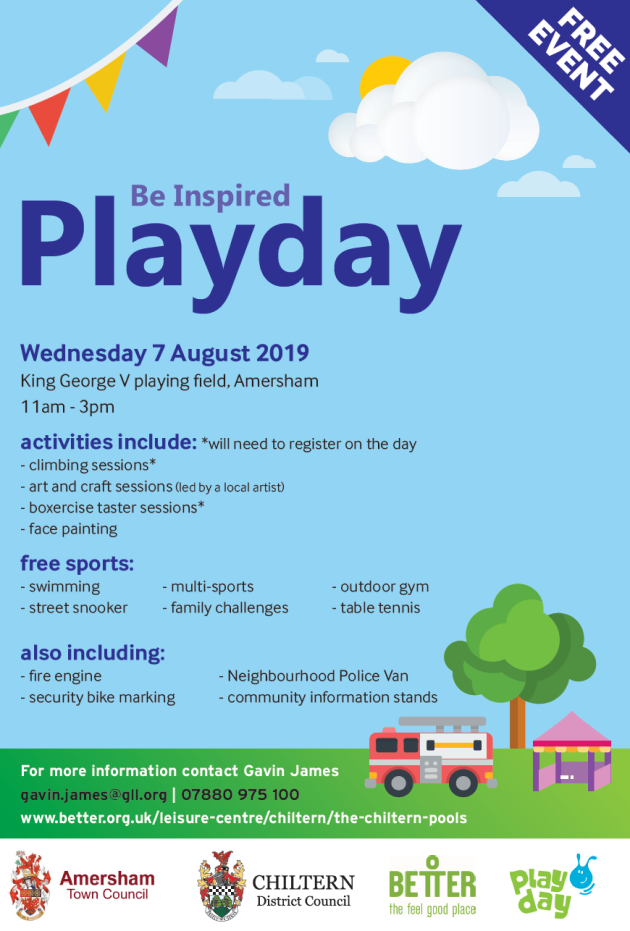 ---
Tudor Walks around Old Amersham
Join us on Saturday 27th July for a Tudor walk around Old Amersham and learn about life - and death - in Amersham 500 years ago.
Who was John Leland and what did he think of Amersham in 1544? The walk stops in about 8 places especially relevant to our story, where you will be told about markets and fairs, food and drink, clothing and work, language and customs, health and religious beliefs. Why were six men and one woman condemned to be burnt for their beliefs and where? Where do the 'weak go to the wall' ? Who haunts which inn and why? Is the High Street Tudor or Georgian - look for the clues.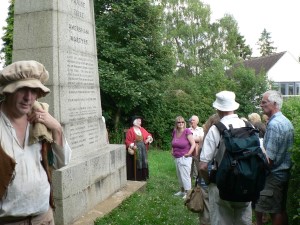 The walk is led by guides in 16th century costume and includes a climb through the fields (taken slowly!). It starts at 2.30 pm at the Amersham Museum (49 High Street) and will last about 2¼ hours (although a short cut is possible towards the end). Cost: 1 groat (or £3) adults, children free. No need to to book - just turn up, whatever the weather.
And if you can't manage 27th July, the walks are repeated on the last Saturday of every month until the end of September.
Dr Peter Borrows
Troye Cottage, 32 Whielden Street, Amersham Old Town, Bucks. HP7 0HU
Tel: 01494 728422 Mobile: 0773344 3694
You can see a history of Troye Cottage at
---
Mayor Starts Foundations For New Bandroom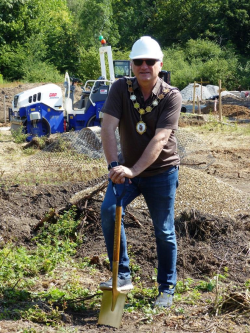 Amersham Town Mayor, Mark Flys, together with Councillor Nigel Shepherd, marked the start of the work to build a new home for Amersham Band. Digging an inaugural hole for the foundations of the new building, Mark said; "I was delighted to be able to take the first step in construction of this new music facility which will secure the future of the band for generations to come."
The band started the project to build a new bandroom 3 years ago, as their current premises in Winchmore Hill is too small and not easily accessible. They acquired a site at the bottom of Rectory Hill, adjacent to the doctor's surgery and made plans for a purpose-built music facility which would fit in with the local surroundings. Band Chairman, Fred Harrison, said "Since we started, we have gained planning permission and have raised over 85% of the funds needed for the project. Thanks to the generosity and support of local people, we are now able to start the building work. The entrance and driveway have been constructed and later in the year we hope to have sufficient money to complete the building."
The new bandroom will enable the band to grow as it now has over 100 members and wants to start a Youth Band. There are also plans to launch a brass academy.
The band is planning to make the new music facility available to other local groups, so it will become an asset that benefits the whole community.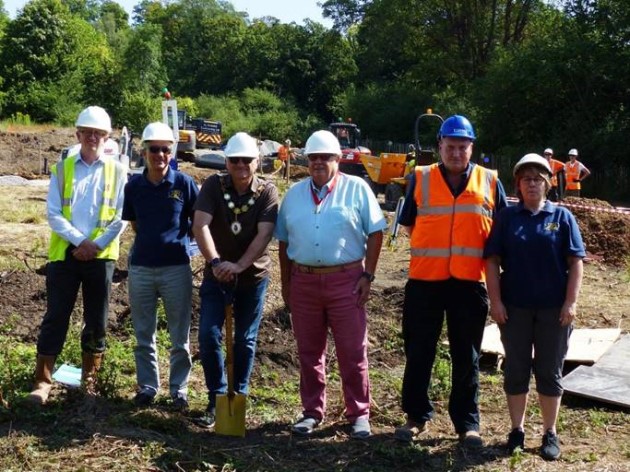 ---
Be aware of the signs of FGM and help protect local girls
Did you know that unfortunately there tends to be a rise in cases of Female Genital Mutilation (FGM) at this time of year? The main reason is that girls can be made to go through the procedure before or during the school holidays so they can recover during the time away from school.
Female Genital Mutilation is illegal in the UK and we can all play a part in spotting the signs of this brutal form of abuse of girls and young women.
It's important that people have the confidence to raise any fears they might have, particularly in communities where people may find it difficult to speak out.
Buckinghamshire Health and Wellbeing Board, alongside Thames Valley Police, the Safer and Stronger Bucks Partnership Board and the children and adult safeguarding boards want to reassure people that any concerns will be treated in the strictest of confidence and will be acted upon.
Common signs to be aware of at this time of year include:
· A girl's parents originating from an FGM practising country and she says she is going abroad for a prolonged period of time.
· A girl referring to a 'special procedure' or 'special occasion' or 'becoming a woman'
· The girl and her family having a low level of integration into the local community
Indicators a girl may have experienced FGM include:
· showing signs of being in pain
· having restricted movement, being off school,
· taking a long time in the bathroom and toilet and
· a reluctance to take part in physical activity.
Martin Tett, Chair of Buckinghamshire Health and Wellbeing Board said:
"This is not an easy topic to have to think about but it's for the safety of girls in our communities that we have to confront it. I urge anyone, particularly people who work closely with children and girls to be vigilant for the signs of Female Genital Mutilation and to speak out about any concerns you might have. It's an inhumane practice and it can cause severe problems and considerable pain – we all have a duty to be aware of the signs and to act to protect vulnerable and innocent young women and girls."
Warren Whyte, Buckinghamshire County Council's Cabinet Member for Children's Services said:
" I hope that by giving out this information that people feel more able to spot the signs of Female Genital Mutilation and know how to do something about it if they are worried about anyone. FGM is a horrific procedure, often performed by people with no medical training without using medical equipment or anaesthetic. It's truly shocking and we want to do all we can to prevent any girls being subjected to this terrible ordeal."
Detective Superintendent Nicholas John from Thames Valley Police said:
"FGM is a form of child abuse. There is no medical reason to carry out the procedure and it is dangerous and is a criminal offence in the UK.
Anyone who reports any concerns can do so in a safe and confidential way. I especially urge anyone who works closely with girls and young women to make themselves aware of the signs of FGM and to know what to do if they have any suspicions."
If you think a child is at risk of FGM you can report it to the Buckinghamshire Safeguarding Children Board. If you think a child is at immediate risk of FGM, for example, if she's about to be taken out of the country, you can report your concerns to the police via the non-emergency number 101 or by dialling 999 in an emergency.
---

Amersham Town FC: August Sept fixtures
Amersham Town F.C. First Team: 2019 / 20
Spartan South Midlands League: Division One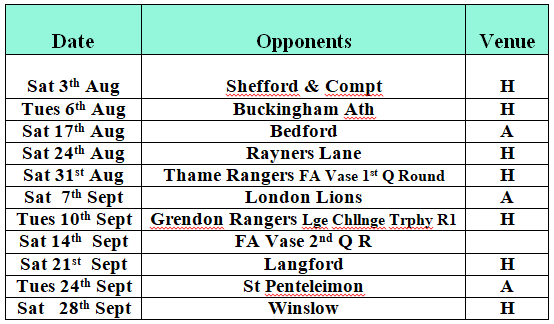 Kick off 3.00pm Saturday and 7.30pm Tuesdayunless stated otherwise.
---