Wheelhouse Veterinary Centre Now Sponsors this newsletter and continues to sponsor the Chalfont St Giles Village Website.
The Wheelhouse Veterinary Centre has been established since 1964 and its current standing offers veterinary services to the residents of Amersham, Chesham, Beaconsfield and The Chalfonts. Here at the Wheelhouse we pride ourselves on the extensive services and facilities we have available at our surgeries and we aim to provide the highest standard of animal care within a pleasant caring environment. We offer access to a 24 hour emergency service, structured health care programs, complementary medicine, home visits, and having a large team means we have a wealth of knowledge!
We are actively involved in supporting the community and sponsorship to schools, youth groups and animal welfare organisations. We work closely with fees to local charities, namely Marjorie Nash Cat Rescue, Cats Protection League and the RSPCA.
"We aim to provide a modern and efficient healthcare service where every visit will exceed our client's expectations achieved by providing the highest quality veterinary care and customer service in every circumstance. We take very seriously our responsibility to serve our clients and patients and treat them with respect and courtesy at all times whilst providing all the help they require."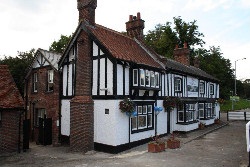 Our Chalfont St Giles surgery at The Pheasant was opened in August 2011 following a total refurbishment and is our newest addition! The surgery in Chalfont St Giles, is housed in one of the oldest buildings in the area, with parts dating from the 16th century. Oliver Cromwell was a visitor to the former inn, and is rumoured to have camped in the grounds after the Battle of Aylesbury in 1642.
Following the demise of Cape Fish, The Pheasant stood empty for 2 years before The Wheelhouse purchased it in November 2010, when the building was on the verge of collapse. Understandably, it took months of careful and considered work to transform the local landmark building into one of the most advanced veterinary surgeries in the area.
The surgery now offers full medical and surgical facilities, a large waiting room and reception area. We also have separate dog and cat wards, an x-ray room, operating theatre, 4 consulting rooms and a car park that can fit up to 30 cars.
We also hold our Puppy Pre-school and Dog Training Academy at Chalfont St Giles which is run by two of our nurses.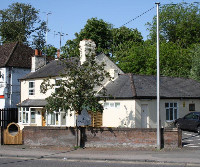 Our surgery in Chesham was opened in 1964 by David Unwin. David and his family lived above the surgery and his wife Hilary answered the telephone.
Since then the surgery has grown every year both in staff and facilities; most recently with a major extension and refurbishment in 2003 so that now there are 3 consulting rooms, 3 operating theatres and inpatient accommodation for 42 animals.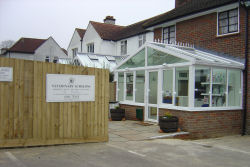 Our Amersham surgery was opened in 1970 with David Unwin entering into partnership with Mr Ian Nicol in 1979. David and his wife over the practice in 1981 when Mr Nicol passed away.
The surgery was completely refurbished in the autumn of 2005 and now offers consultations. Patients requiring hospitalisation or surgical treatment are transferred to our Chesham or Chalfont St Giles surgeries.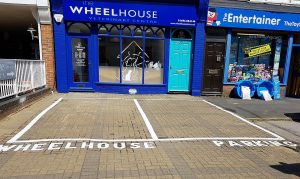 The surgery in Beaconsfield was opened in June 2019, is our newest addition and provides a full range of medical and surgical facilities. Refit work started on the old charity shop site in late february creating an operating theatre, prep room and an area for day patients to stay. As work progressed through April and May, a new reception and consulting rooms were created.
The surgery was officially opened by the Mayor Beaconsfield on Monday 10th June 2019.
---
Give us your views on roads
Buckinghamshire County Council (BCC) is seeking the opinions of residents on the county's road system in a new online survey that will provide information that will inform the council's strategic highways planning.This online survey is open to all residents, and is in addition to the annual National Highways and Transportation (NHT) survey which was sent to 3,300 randomly selected households in Buckinghamshire during June.
Through this survey, BCC will be taking a deeper look at two of the key NHT questions which concern 'Road Condition' and 'Road Congestion'. The opinions collected through this survey will be used to supplement the information obtained via the NHT.Deputy Leader and Cabinet Member for Transportation Mark Shaw said: "when we look at the combined results of these two surveys, we can really start to build a picture of how the public views and rates our services. This will assist both Buckinghamshire County Council with transport planning and Transport for Buckinghamshire - the strategic highway maintenance arm of the organisation – with advising us on where the roads budget is best spent each year.
"We really value the views of our residents, and this additional questionnaire will give us a better understanding of any issues respondents are experiencing with road condition and road congestion.

The survey will remain open to the residents of Buckinghamshire until 30 September 2019. It takes under five minutes to complete and is open to all residents even if they have responded to the initial NHT survey received last month. The results will be made available on the BCC website in the autumn this year.

Complete the survey here: www.surveymonkey.co.uk/r/BCCtransportsurvey2019
---
Temporary lights for water main works on A355
Work on a water main at Beaconsfield will require temporary traffic lights on the main A355 Amersham Road from 7am on Tuesday 23 July until Tuesday 30 July.

Lights are needed 24-hours-a-day but will be controlled manually during peak hours to try to keep traffic flowing, and minimise congestion.

The work, by Affinity Water, which follows a week of emergency work, is needed to complete a mains connection as part of the realignment of Maxwell Road, and the creation of a new junction with the main road. The excavation is expected to be 6m x 6m x 1.8m deep (20ft x 20ft x 6ft).

It's all part of the A355 improvements to provide the town with a relief road, which is under construction.

Mark Shaw, Buckinghamshire County Council Deputy Leader and Transport Cabinet Member, said: "I do appreciate no one likes delays in their journey, and I apologise for any inconvenience. We've looked at all ways to undertake these works without causing disruption, and I've been assured Affinity Water will get the job done as quickly as they can, while making sure people still have running water in their homes!"
For further information please contact: Richard Wells, on 01296 382444 or out of hours on 07825 430978
---
Don't let airport scanners ruin your holiday
If you're travelling by air for a holiday or business trip and need to take a medical device with you, there is a new way to prevent them getting damaged at airport scanners. Getting a Medical Device Awareness Card before you fly could help you keep them safe.
Medical devices such as insulin pumps, Continuous Glucose Monitoring (CGM) systems and freestyle libre (flash glucose monitor) devices should not be exposed to x-ray screening and airport scanners, which can cause potential damage.
The awareness card provides information for both the Security Officer and the passenger. Before going through the airport scanners, passengers should make the Security Officer aware of the device (including spare devices) and ask for an alternative security screening method.
Gill Dunn, Diabetes Specialist Nurse, Buckinghamshire Clinical Commissioning Group said "The awareness card is an excellent way to remind patients with an insulin pump or CGM how to prepare for their journey. This includes bringing some medical evidence with them to confirm they use a medical device."
The awareness card has been produced by theUK Civil Aviation Authority and Airport Operators Association. It can be downloaded and printed direct from the CAA website www.caa.co.uk
More information on the Medical Device Awareness Card is available at www.caa.co.uk