---
Nottingham Knockers
Over the last 2 days in Amersham and the Chalfonts we have received a large number of calls around doorstep sellers or Nottingham Knockers as they are commonly called. A number of calls received were complaining of the aggressive nature of these people.
I spoke to Mrs H about her experience who said "At about 1740, there was a really loud noise at my door. It wasn't a knock, it was thumping on the glass so I guessed who it was.
I opened the front door and the male hadn't knocked on the porch door (which most people do). He was banging the glass on the internal door.
I get the impression that he was really trying to intimidate me. He tried to get into my personal space and said that he had recently been released from prison, and he had been put on a scheme by probation. He also said that a police officer had just bought a chamois leather from him. He was really persistent. I told him three times that I wasn't interested.
I was concerned about his bullying tactics with the elderly neighbours."
From this you can see the tactics that are being used. The intimidation banging on the glass rather than the door, the mention of having been in prison and getting in the victims personal space. The tactic of legitimising the behaviour by saying probation had put him on a scheme and that a police officer had bought some items from him.
Aggressive behaviour
The law states that a trader who ignores a resident's request to leave and not return commits a criminal offence under the provisions of The Consumer Protection From Unfair Trading Regulations 2008.
Cold Callers and Rogue Traders
Cold calling is the act of making uninvited visits to your home with the intention of selling goods or services. It is not illegal and does not require a licence. Under the Peddlars Act a doorstop sellers should obtain a permit from the local police station. It is common for a gang to target an area and for groups to then be picked up later on in the day. There have been concerns that this can lead to vulnerable persons and addresses being identified and later targeted.
Cold calling doorstep traders who target the elderly and vulnerable cause most concern. They offer services like roofing, block paving, guttering, painting and gardening. There are, of course, plenty of reputable traders offering a range of services but they can still be a nuisance if they cold call against your wishes. Any trader that puts you under pressure by falsely implying that you have to make a decision there and then, or that the "special price" is only available for a limited period in order to make you sign up, is committing an offence.
Stop Cold Calling sticker packs and Zones
You can express your request not to receive visits from cold calling doorstep traders by taking part in Buckinghamshire and Surreys Trading Standards 'No cold calling sticker scheme'. The packs include door and window stickers which can be stuck up outside peoples addresses and will act as a deterrent to unwanted callers. There is also an indoor sticker to remind people of where they can report these traders to.
Sticker packs can be obtained from them or your local police station. I have also been in touch with the C&SB District Councils Community Safety Team who will assist roads in creating 'No door step trader zones' if the majority of your street is in agreement.
Recommended Contractors
If you are looking for work it is recommended that you get recommendations or consider Trading Standards approved contractors on Buywithconfidence.gov.uk and CheckaTrade.com

Hopefully this will help you in dealing with such people and make you aware of the associated risks to you and your neighbours.
---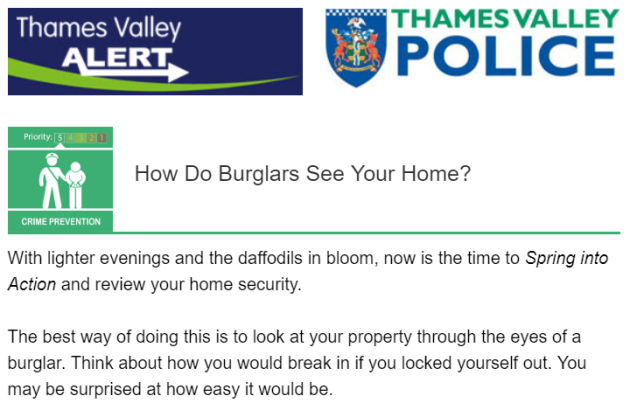 To get started, simply download your FREE Home Security Guide from the Thames Valley Police website here: https://www.thamesvalley.police.uk/police-forces/thames-valley-police/areas/advice/home-security-guide/

The guide contains lots of hints and tips including:
A range of physical and digital security measures to protect your home

How to avoid invalidating your home insurance through poor security

A handy checklist for when you go away.
Being burgled is a traumatic experience. It's not just the financial cost of replacing stolen items, but also the emotional impact of feeling violated after a stranger has been in your home.

In this short video, Jennifer and Sam talk about how they were affected after their home was burgled. You can watch the video on the Thames Valley Police YouTube channel here: https://youtu.be/aY9eBeaQeA0

By working together we can build community resilience to deter burglars from targeting homes in the area
---
Chesham Photographic Club's Phonepix Competition makes a return for 2019!
After the success of its inaugural competition in 2018, Chesham Photographic Club is launching its Phonepix Competition again this month, aimed at young people aged 18 and under, the competition aims to channel young people's creativity and express this using only a mobile phone.
Last year's competition attracted over 200 entries from the Buckinghamshire and Hertfordshire area and the club hopes to be able to better this in 2019. The club's judges were so impressed by the standard of entries in last years competition that this year they have decided not to divide the competition into two separate age groups as previously and spread the prizes more evenly between the winning entries, but the club retains its ethos of having as fewer rules as possible to encourage more young people to enter, as club Chairman Tanya Barrett explains "By keeping it simple we hope to encourage the vast amount of creativity and talent these young people have, the standard of images received last year was phenomenal and we'd love to be able to replicate that again this year. Whether you are studying photography at school or just have a keen interest how do you know what you can achieve unless you have a go?"
This year's competition has also gained a sponsor - Specsavers Chesham, who will be present at the Club's Annual Exhibition at Chesham Town Hall on Saturday 26th October where the successful entrants will be awarded their prizes by the Town Mayor. This year sees some other changes in that entrants will get to choose from two subjects, 'It's a Bugs Life' and 'The Future' and they have the option to mix and match between them if they so wish with the winning image taking home £100.
Full rules, terms and conditions and details of how to enter are on the club's website at www.cheshamphotoclub.com and their Facebook page at Facebook.com/cheshamphotographicclub
---

Have Your Say
Thursday 23rd May 2019 6pm to 8pm Chiltern Hills Academy, Chartridge Lane, Chesham,
HP5 2RG.
Please come along and share your views and work together to make our communities safe.
Find out about local policing and help set our priorities.

Communtiy Forum - Thursday 23 May (Chiltern Hills Academy).pdf - 1,777.2 KB
---
Footway surfacing
180512 – High Street, Chesham – White Hill to The Broadway (08/04/19 to 26/04/2019)
Footway block paving and drainage works taking place using a footway and road closure between 08:00 and 18:00hrs.
---
AMERSHAM SPIRITUALIST CENTRE

We meet on Friday nights at 7:30pm at the Village Hall in White Lion Road, Amersham Common. Directions.

We have a different medium each week who will connect you to your departed loved ones and demonstrate that your spirit never dies. See the What's On page on our web site for details of upcoming mediums.

At the start of the service, we have a brief spiritual healing and meditation session to help you wind-down from your busy week, ready for the weekend.

There is no specific charge for the service or for healing, but we are happy to receive your free-will donations during the service.

We are a friendly group who have been meeting in Amersham for 30 years and we look forward to giving you a warm welcome when you come to see us.

You can follow us on facebook by clicking this link.