William's Fund Penguin Celebrates a Hole in One!
As Chartridge Park Golf Club helps charity in its fight against childhood cancer…
During her year of Captaincy Fi Moore raised £9000 of which £4,682 was raised at Club events.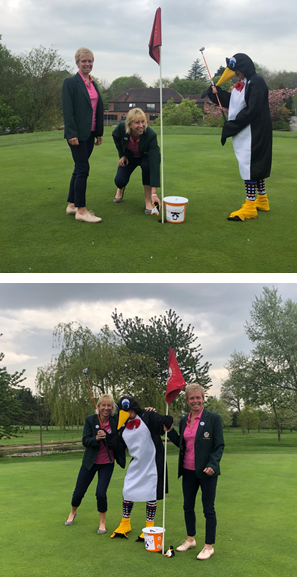 For further information contact:
Johanna Dodd, William's Fund https://www.williamsfund.co.uk
Sandra Lacey, Chartridge Park GC https://www.chartridgepark.co.uk
---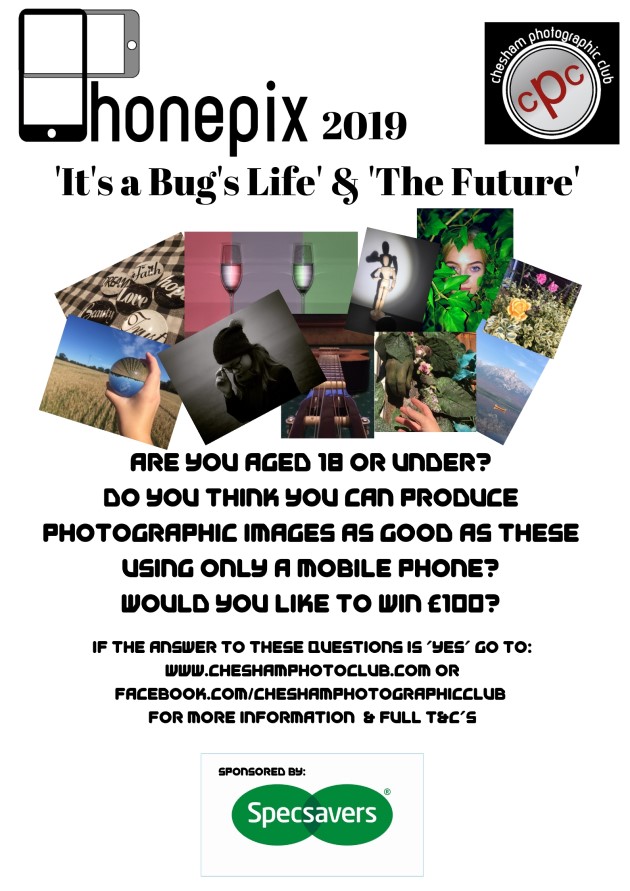 Chesham Photographic Club's U18's Phonepix Competition returns for 2019
Chesham Photographic Club's Phonepix Competition aimed at young Photographers aged 18 and under returns for 2019 and following the huge success of last year comes with a few changes – namely a local sponsor and a choice of subjects. This year the event is to be sponsored by Specsavers of Chesham which came about as a very happy accident when their Manager happened to come along to the Club's Annual Exhibition whilst on his lunch break and was so impressed with the standard of the Students work he offered to become a sponsor. Specsavers will also have a presence at this year's Exhibition in a bid to This year entrants also have a choice of subject between 'It's a Bugs Life' and 'The Future' which they can mix and match if they wish. All other aspects of the Competition remain the same as does the Clubs ethos of nurturing young talent within the community as Club representative Tanya Barrett explains further; "For a number of years, we ran a Schools Photography Competition and last year we decided to start the Phonepix competition. Chesham Photographic Club is a community group which has been based in Chesham for the last 56 years, and we thought it would be great to try and take our involvement with budding school photographers to another level. To date, the Schools Competition entries have put our club members, as seasoned photographers, to shame with the work that the students have produced. We are constantly amazed at the thought that goes into the images and how creative and imaginative the students can be".
Tanya goes on to say, "We want to continue to keep it simple with as fewer rules as possible to encourage more young people to enter. Due to the high standard of the entries last year this year we have eradicated the separate age groups as really there was no obvious differentiation between them, all of the shortlisted images were stunning" The only rules remaining is that images must be taken on a mobile phone and entrants must be under 18 years of age. All of the submitted images will be on display at the Club's Annual Exhibition at Chesham Town Hall in October and the authors of the placed images will be awarded a their prizes and certificates by Chesham Town Mayor Qaser Chaudhry with the winning image receiving a £100 and the runners up £50 each .
In the current Instagram age, it is hoped that this will encourage those who would not normally enter a competition like this to do so and that the entries will again astound the club and its Judges and will encourage the next generation of amateur and professional photographers.
Closing date for entries is Saturday 28th September 2019, for full Terms & Conditions, details of the competition and how to enter visit:
www.cheshamphotoclub.com or Facebook.com/cheshamphotographicclub
---
Give us your views on roads
Buckinghamshire County Council (BCC) is seeking the opinions of residents on the county's road system in a new online survey that will provide information that will inform the council's strategic highways planning.This online survey is open to all residents, and is in addition to the annual National Highways and Transportation (NHT) survey which was sent to 3,300 randomly selected households in Buckinghamshire during June.
Through this survey, BCC will be taking a deeper look at two of the key NHT questions which concern 'Road Condition' and 'Road Congestion'. The opinions collected through this survey will be used to supplement the information obtained via the NHT.Deputy Leader and Cabinet Member for Transportation Mark Shaw said: "when we look at the combined results of these two surveys, we can really start to build a picture of how the public views and rates our services. This will assist both Buckinghamshire County Council with transport planning and Transport for Buckinghamshire - the strategic highway maintenance arm of the organisation – with advising us on where the roads budget is best spent each year.
"We really value the views of our residents, and this additional questionnaire will give us a better understanding of any issues respondents are experiencing with road condition and road congestion.

The survey will remain open to the residents of Buckinghamshire until 30 September 2019. It takes under five minutes to complete and is open to all residents even if they have responded to the initial NHT survey received last month. The results will be made available on the BCC website in the autumn this year.

Complete the survey here: www.surveymonkey.co.uk/r/BCCtransportsurvey2019
---
Don't let airport scanners ruin your holiday
If you're travelling by air for a holiday or business trip and need to take a medical device with you, there is a new way to prevent them getting damaged at airport scanners. Getting a Medical Device Awareness Card before you fly could help you keep them safe.
Medical devices such as insulin pumps, Continuous Glucose Monitoring (CGM) systems and freestyle libre (flash glucose monitor) devices should not be exposed to x-ray screening and airport scanners, which can cause potential damage.
The awareness card provides information for both the Security Officer and the passenger. Before going through the airport scanners, passengers should make the Security Officer aware of the device (including spare devices) and ask for an alternative security screening method.
Gill Dunn, Diabetes Specialist Nurse, Buckinghamshire Clinical Commissioning Group said "The awareness card is an excellent way to remind patients with an insulin pump or CGM how to prepare for their journey. This includes bringing some medical evidence with them to confirm they use a medical device."
The awareness card has been produced by theUK Civil Aviation Authority and Airport Operators Association. It can be downloaded and printed direct from the CAA website www.caa.co.uk
More information on the Medical Device Awareness Card is available at www.caa.co.uk