This newsletter has been sponsored by the local businesses listed below. Their contribution is crucial to the maintenance of the newsletter and so please do make use of their services.
You have received this email because you subscribed at www.chorleywood.org.uk. If you no longer wish to be sent these you may un-subscribe via this link. Please forward this email to anyone who might be interested in local news. Click here to read our Disclaimer, Terms and Conditions.
The strict deadline for submissions is 6pm each Wednesday, for publication within the following 24 hours. Early submission however is strongly encouraged as problems or queries may need to be resolved first.Items for inclusion in this newsletter may be emailed here but please read our editorial policy first.
Our range of local email newsletters currently have editions covering the communities of Amersham, Beaconsfield, Chalfont St Giles, Chalfont St Peter, Chesham, Chorleywood, Denham, Gerrards Cross, Jordans, Seer Green and Little Chalfont.

Sound financial advice
not high pressure selling.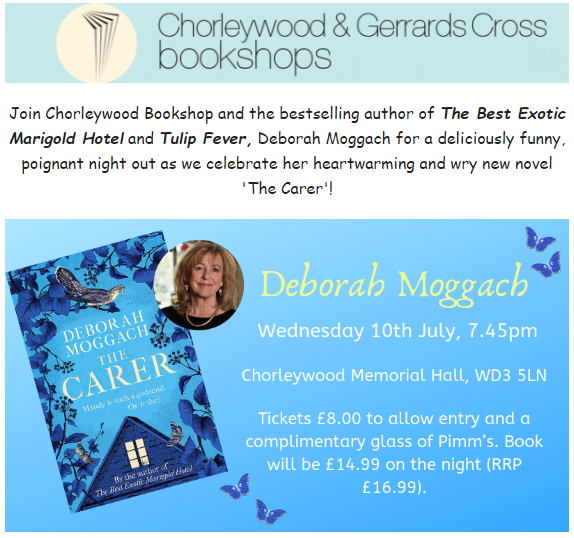 James is getting on a bit and needs full-time help. So Phoebe and Robert, his middle-aged offspring, employ Mandy, who seems willing to take him off their hands. But as James regales his family with tales of Mandy's virtues, their shopping trips, and the shared pleasure of their journeys to garden centres, Phoebe and Robert sense something is amiss. Is this really their father, the distant figure who never once turned up for a sports day, now happily chortling over cuckoo clocks and television soaps?
Then something happens that throws everything into new relief, and Phoebe and Robert discover that life most definitely does not stop for the elderly. It just moves onto a very different plane - changing all the stories they thought they knew so well...

Tickets £8.00 to allow entry and a complimentary glass of Pimmís. Book will be £14.99 on the night (RRP £16.99).

Click here to book!