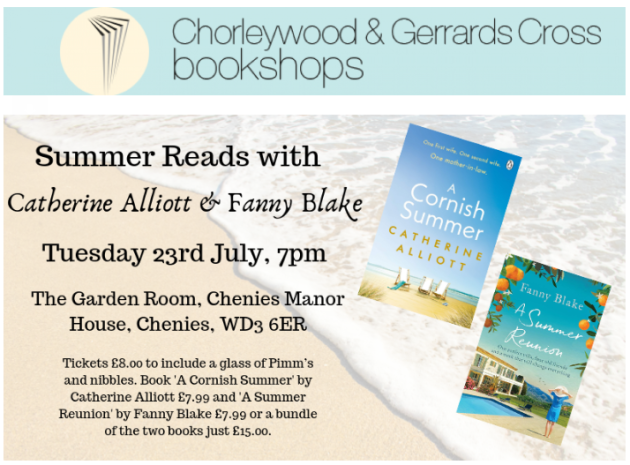 Chorleywood Bookshop invites you to an evening of Summer fiction! Join Catherine Alliott & Fanny Blake at Chenies Manor House, WD3 6ER on Tuesday 23rd July for a Pimms, nibbles and two fantastic summer reads!
Fanny Blake's 'A Summer Reunion' begins with one perfect villa, four old friends, and a holiday that will change everything...
As the four friends gather, secrets are unearthed, old scores settled and new friendships forged. Will this holiday bring them together or tear them apart? And will each of them grasp their second chance for happiness...?

Catherine Alliott's 'A Cornish Summer' is a hilarious and touching summer read ...
Meet Flora. Flora's been in love with her husband for twenty years. The trouble is, he's been married to someone else for the past fifteen . . .
Now she's been invited to spend the summer in the shady lanes and sandy coves of Cornwall. It should be blissful.
But when her ex husband and his new wife arrive, Flora has a decision to make. Will she spend the summer playing happy families with the woman who stole her husband's heart, and the mother-in-law who might have had a hand in it? Or will stumbling on the family secret change her mind about them all?

Tickets £8.00 to include a glass of Pimms and nibbles.
'A Cornish Summer' by Catherine Alliott £7.99 and 'A Summer Reunion' by Fanny Blake £7.99, or a bundle of the two books just £15.00.

Click here to book!
---
Don't let airport scanners ruin your holiday
If you're travelling by air for a holiday or business trip and need to take a medical device with you, there is a new way to prevent them getting damaged at airport scanners. Getting a Medical Device Awareness Card before you fly could help you keep them safe.
Medical devices such as insulin pumps, Continuous Glucose Monitoring (CGM) systems and freestyle libre (flash glucose monitor) devices should not be exposed to x-ray screening and airport scanners, which can cause potential damage.
The awareness card provides information for both the Security Officer and the passenger. Before going through the airport scanners, passengers should make the Security Officer aware of the device (including spare devices) and ask for an alternative security screening method.
Gill Dunn, Diabetes Specialist Nurse, Buckinghamshire Clinical Commissioning Group said "The awareness card is an excellent way to remind patients with an insulin pump or CGM how to prepare for their journey. This includes bringing some medical evidence with them to confirm they use a medical device."
The awareness card has been produced by theUK Civil Aviation Authority and Airport Operators Association. It can be downloaded and printed direct from the CAA website www.caa.co.uk
More information on the Medical Device Awareness Card is available at www.caa.co.uk