Jolly Good Show
The great thing about being the Editor is that I can put into the newsletter whatever I want. As such, I thought I might share with the readers a once in a lifetime experience that not many people might ever get to do and also for those that may have done this in the line of duty.
I was very lucky to be given a Spitfire flight for Christmas by my wife Caroline and I have put together a 3 & 1/2 minute video of my experience and you can view it from this link or click the picture. Photo taken by Caroline from the Cessna 172 we caught up!
With the above in mind the theme for this year's Chalfont St. Giles Village Show is 'Transport Through The Ages'. Put the date in your diary!

Competition entry is now open for the September 7th Show.
Enter at www.csgshow.org
---

The weather is looking very good for this coming Sunday too
---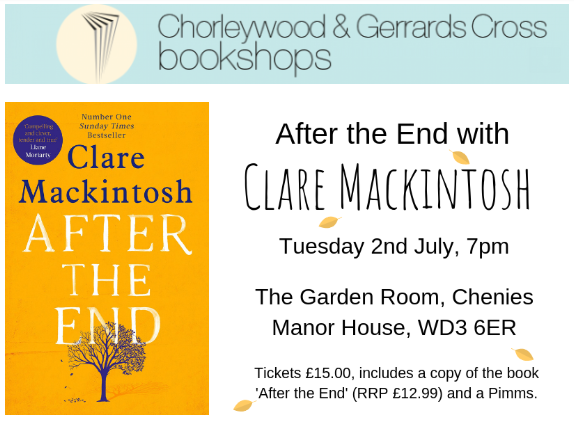 The powerful and page-turning new novel from number one Sunday Times bestseller, Clare Mackintosh.
If you loved Jojo Moyes' Will and Lou then you will adore Clare Mackintosh's Max and Pip! Max and Pip are the strongest couple you know. Only now they're facing the most important decision of their lives - and they don't agree.
As the consequences of an impossible choice threaten to devastate them both, nothing will ever be the same again.
Join Chorleywood Bookshop and Clare Mackintosh on Tuesday 2nd July, 7pm at The Garden Room, Chenies Manor House, WD3 6ER for an evening celebrating this heartfelt story of love, friendship, sacrifice, compromise and what happens after the end...

Tickets £15.00, includes a copy of the book 'After the End' (RRP £12.99) and a Pimms.

Click here to book!
Author Talks
Hitlerís British Isles with Duncan Barrett on Tuesday 9th July, 7pm
at Chorleywood Library, Lower Road, Chorleywood, WD3 5LB
Literary Lunch with David Nicholls on Tuesday 9th July, 12.30pm (doors 12pm) at The Garden Room, Chenies Manor House,WD3 6ER
Fantastic fiction with Deborah Moggach on Wednesday 10th july, 7.45pm at Chorleywood Memorial Hall, WD3 5LN
The Second Sleep with Robert Harris on Wednesday 11th September, 7pm at St Clement Danes School, WD3 6EW
Britain in the First World War with Simon Heffer on Monday 23rd September, 7pm at Chorleywood War Memorial Hall, WD3 5LN
Creative Writing Course at Chenies Manor with Wendy Holden on Tuesday 15th & Wednesday 16th October, 9.15am to 5.30pm at Chenies Manor House, Chenies, Rickmansworth, WD3 6ER
An evening with Joanna Cannon and Nathan Filer on Monday 28th October, 7pm at Chorleywood War Memorial Hall, WD3 5LN