---
Nottingham Knockers
Over the last 2 days in Amersham and the Chalfonts we have received a large number of calls around doorstep sellers or Nottingham Knockers as they are commonly called. A number of calls received were complaining of the aggressive nature of these people.
I spoke to Mrs H about her experience who said "At about 1740, there was a really loud noise at my door. It wasn't a knock, it was thumping on the glass so I guessed who it was.
I opened the front door and the male hadn't knocked on the porch door (which most people do). He was banging the glass on the internal door.
I get the impression that he was really trying to intimidate me. He tried to get into my personal space and said that he had recently been released from prison, and he had been put on a scheme by probation. He also said that a police officer had just bought a chamois leather from him. He was really persistent. I told him three times that I wasn't interested.
I was concerned about his bullying tactics with the elderly neighbours."
From this you can see the tactics that are being used. The intimidation banging on the glass rather than the door, the mention of having been in prison and getting in the victims personal space. The tactic of legitimising the behaviour by saying probation had put him on a scheme and that a police officer had bought some items from him.
Aggressive behaviour
The law states that a trader who ignores a resident's request to leave and not return commits a criminal offence under the provisions of The Consumer Protection From Unfair Trading Regulations 2008.
Cold Callers and Rogue Traders
Cold calling is the act of making uninvited visits to your home with the intention of selling goods or services. It is not illegal and does not require a licence. Under the Peddlars Act a doorstop sellers should obtain a permit from the local police station. It is common for a gang to target an area and for groups to then be picked up later on in the day. There have been concerns that this can lead to vulnerable persons and addresses being identified and later targeted.
Cold calling doorstep traders who target the elderly and vulnerable cause most concern. They offer services like roofing, block paving, guttering, painting and gardening. There are, of course, plenty of reputable traders offering a range of services but they can still be a nuisance if they cold call against your wishes. Any trader that puts you under pressure by falsely implying that you have to make a decision there and then, or that the "special price" is only available for a limited period in order to make you sign up, is committing an offence.
Stop Cold Calling sticker packs and Zones
You can express your request not to receive visits from cold calling doorstep traders by taking part in Buckinghamshire and Surreys Trading Standards 'No cold calling sticker scheme'. The packs include door and window stickers which can be stuck up outside peoples addresses and will act as a deterrent to unwanted callers. There is also an indoor sticker to remind people of where they can report these traders to.
Sticker packs can be obtained from them or your local police station. I have also been in touch with the C&SB District Councils Community Safety Team who will assist roads in creating 'No door step trader zones' if the majority of your street is in agreement.
Recommended Contractors
If you are looking for work it is recommended that you get recommendations or consider Trading Standards approved contractors on Buywithconfidence.gov.uk and CheckaTrade.com

Hopefully this will help you in dealing with such people and make you aware of the associated risks to you and your neighbours.
---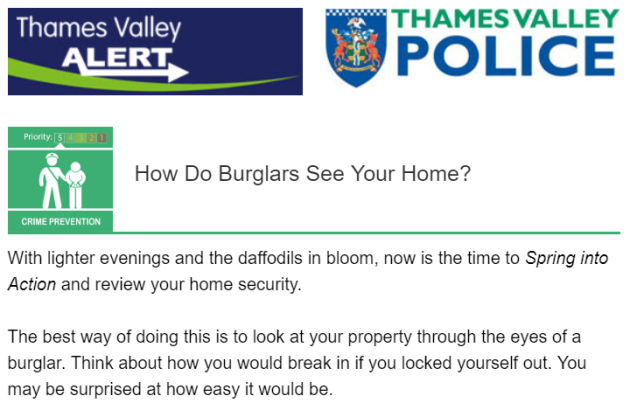 To get started, simply download your FREE Home Security Guide from the Thames Valley Police website here: https://www.thamesvalley.police.uk/police-forces/thames-valley-police/areas/advice/home-security-guide/

The guide contains lots of hints and tips including:
A range of physical and digital security measures to protect your home

How to avoid invalidating your home insurance through poor security

A handy checklist for when you go away.
Being burgled is a traumatic experience. It's not just the financial cost of replacing stolen items, but also the emotional impact of feeling violated after a stranger has been in your home.

In this short video, Jennifer and Sam talk about how they were affected after their home was burgled. You can watch the video on the Thames Valley Police YouTube channel here: https://youtu.be/aY9eBeaQeA0

By working together we can build community resilience to deter burglars from targeting homes in the area
---
The Lord Lieutenant for Buckinghamshire, Sir Henry Aubrey-Fletcher presents School Aid with the Queen's Award for Voluntary Service
School Aid was greatly honoured to officially receive this award, presented by the Lord Lieutenant for Buckinghamshire, Sir Henry Aubrey-Fletcher on behalf of Her Majesty.
Hosted by Countess Howe, in the beautiful surroundings of her home at Penn House, Sir Henry presented the Chairman of School Aid, Janis Mowlam, and one of its volunteers, Moira Austin with a certificate signed by the Queen and the commemorative glass crystal presentation award.
Lady (Joy) Baker, Founder and President of School Aid, who was motivated to set up the charity in 1998 after a visit to an under-resourced school in Zimbabwe, welcomed the distinguished guests and friends of School Aid: The Rt Hon Sir Scott Baker; Prof Ruth Farwell, the High Sheriff of Buckinghamshire; Dr Sheena Dykes and Gillian Miscampbell of the Queen's Award committee in Buckinghamshire; the Chairman of School Aid along with some former and present Trustees; plus many of the past and present volunteers who inspired the initial nomination.
Sir Henry Aubrey-Fletcher introduced the proceedings, giving a warm introduction to the mission of School Aid which is to give as many African children as possible an improved access to books and reading, an aim that would not be possible without the unrelenting dedication of its volunteers. Today they were recognised for their work and their role in everything that School Aid has achieved over the past 20 years.
Janis Mowlam, Chairman of School Aid said:
"Whilst this is very much an award that recognises community volunteering in the UK, School Aid wouldn't want to miss this opportunity to celebrate every individual who gives us their time and their wealth of experiences, both UK-wide and in Africa. Our wonderful volunteers, wherever they are, make vital contributions across the organisation, and this award is as much a celebration of their hard work as it is of those who live close to our Hedgerley warehouse.
We are delighted to have won this award because it highlights how dependent School Aid is on its entire volunteer base, and the generosity of schools and businesses who also contribute to our cause. It just wouldn't be possible to help so many African school children on a daily basis without the immense generosity of all our volunteers."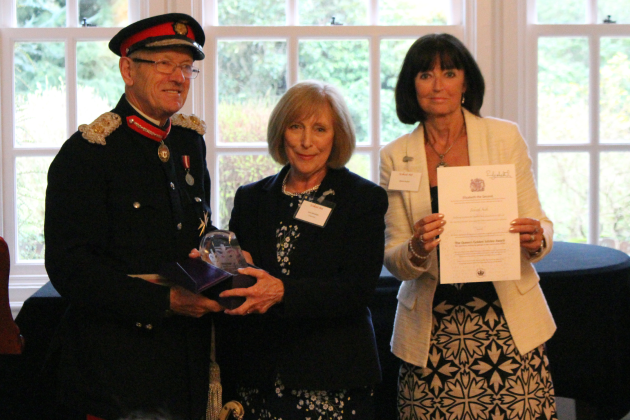 School Aid – the ability to read changes everything
Despite the continued efforts of governments, many children in the developing world still have a restricted access to books. Shortages of all educational resources continue to hamper learning in sub-Saharan Africa and few children have any experience of reading for pleasure.
School Aid supports schools and communities in southern and eastern Africa where the need for books is most acute. Using donated educational resources, we provide school library development and targeted literacy programmes which we design alongside local educational policies to enhance teaching and promote learning.
As national governments work towards universal primary and secondary education by providing school buildings and abolishing school fees, School Aid targets the gaps where resources in these schools are lacking, helping to develop learning environments that can inspire African children to greater things.
School Aid relies heavily on volunteers and the goodwill of a number of parties. This includes schools that generously donate books and stationery, businesses that pledge their services to deliver them to us, volunteers who pack the books ready for shipment, sponsors who contribute to the logistical costs and the enthusiastic helpers who distribute the donations at the other end.
School Aid works in Lesotho, Malawi, South Africa and Tanzania and last year we celebrated our 20th Anniversary. Since 2007 our records show that 697,598 African children have benefitted from 1,442,026 books that we have delivered to 1,100 poorly resourced schools.
For further information on School Aid:
General Manager: Clare Junak – clare.junak@school-aid.org
Marketing Manager: Leona Whieldon – leona.whieldon@school-aid.org
Website: www.school-aid.org
Email: office@school-aid.org
Tel: 01753-883 853
---
In Support of Dementia Action Week, South Bucks District Council and Buckinghamshire County Council are running a free Dementia Friends Information session on Wednesday 22nd May at South Buckinghamshire Golf Course between 2.30-4pm and are looking for local people to come along.
Alzheimer's Society Dementia Friends programme is the biggest ever initiative to change people's perceptions of dementia. It aims to transform the way the nation thinks, talks and acts about the condition. There are currently approximately 850,000 people living with dementia in England.
Dementia Friends is about learning more about dementia and the small ways you can help. From telling friends about the Dementia Friends programme to visiting someone you know living with dementia, every action counts.
If you would like to book onto the session please visit: southbucksdementiafriends.eventbrite.co.uk/
For further information please contact: Community@chilternandsouthbucks.gov.uk