Events at Gold Hill
Community Easter Party on Easter Sunday afternoon 4.30pm – 6.30pm
Come along for an afternoon of activities indoors, outdoors, with food and drink for all.
Gold Hill Baptist Church & Gold Hill Common – no charge!
Sign up (goldhill.org/easterparty) or just turn up on the day!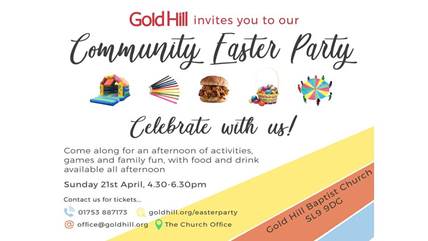 ~~~~~~~~~~~~~~~~~~~~
Looking at Life – evening for ladies on Thursday 2nd May from 7.30pm for refreshments.
We all have to 'let go' of things as we move from season to season in our lives – parents, siblings, Friends, children, jobs, health…..and more! Jenny Baines will help us reflect on these experiences, and help us to be better equipped to face such changes in the future. Time to listen, time to ask questions, time to chat to old friends and new – all welcome – no charge.
Sign up at www.goldhill.org/lookingatlife
---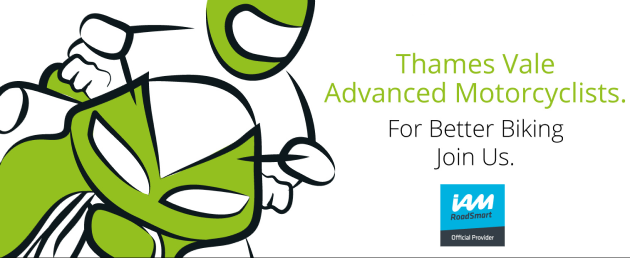 If you've passed your A2 (or above) bike test in the past two years and are under 30 years of age then you could qualify for RideUP.
The free RideUP scheme offers young riders and those new to riding larger bikes training on and off the road to the IAM RoadSmart advanced level. The scheme includes:
• Unlimited on-road personal coaching to the IAM RoadSmart Advanced Test level
• An Advanced Braking course (held on private roads)
• An Advanced Cornering course (held on private roads)
• A Track Skills Day on a closed racetrack
• Entry for your IAM RoadSmart Advanced bike test
• Your first year's membership of TVAM
• Your first year's membership of IAM RoadSmart
Even if you are not in the category above, advanced rider training could still be for you. Come for a free observed ride with an IAM Roadsmart Observer and see how you can improve your riding ability.
We meet on the 3rd Sunday of every month, full details here www.tvam.org
Not doing anything special this Easter Sunday morning? Meet up with a Local Observer in Chalfont St Giles for a personal introduction to the club of over 1000 members. You'll be home by 1pm. TXT or call Gary 07968 561322 to arrange the meet up.