Bouncing Email Newsletters
Some receipients of this email newsletter are probably no longer recieivng it. In the past few weeks many btinternet, btopenworld, talk21 and yahoo email addresses have repeatedly been rejected.
These newsletters are sent out only to those people requesting them and so as soon as a bounce or spam notification comes in the company we pay to send the emails flag them as unwanted and they are removed from the distribution list.
It would appear, for certain, that btinternet email addresses are being rejected for a reason only they will know. This will be actioned automatically and so the receipient doesn't even get the the chance to decide if the message is spam or not.
Those of you reading this, with one of the email addresses listed above, have obviously not been affected but you may know someone who used to get the newsletter but no longer do. Please tell them to re-subsrcibe here http://www.chalfontstgiles.com/default2.asp or better still, forward this email to them and it may get through from you.
Don't forget that the previous 8 weeks of newsletters may be found here http://www.chalfontstgiles.org.uk/newsletterarchive.htm
Thank you
Gary. Ed.
---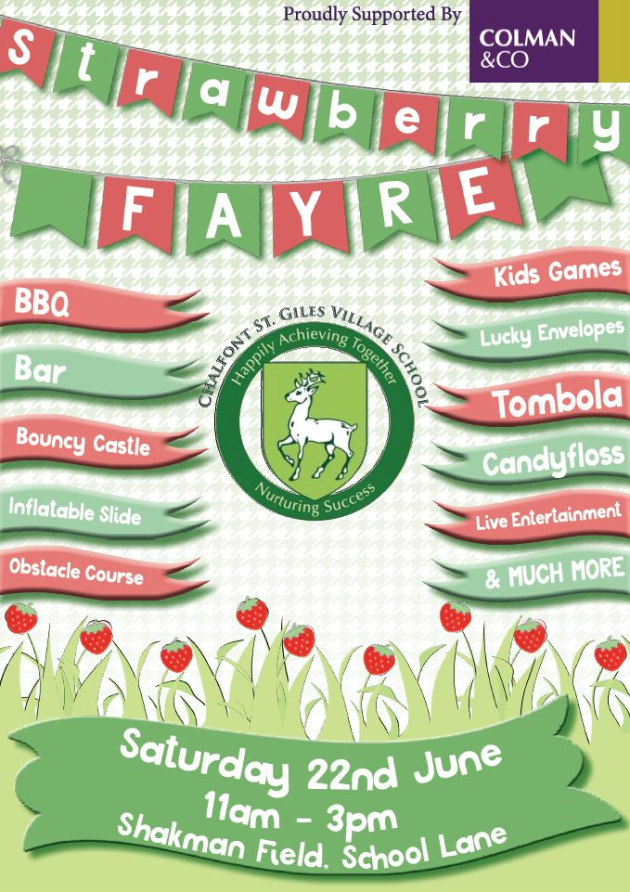 ---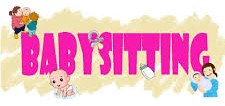 Hello, My name is Charlotte and I'm 20 years old and live in St Giles. I'm currently home for summer and am available for babysitting till end of September. I have lots of previous experience for kids of all ages, have a clean driving license and can provide a reference if needed. If interested please contact me on 07954617882 or email at charlotte@tinco.co.uk
---
Come and learn some bushcraft skills this weekend
This weekend 22 and 23 June, 10am – 5pm forget technology and instead escape to the beauty of Chiltern Open Air Museum in Chalfont St Giles, Buckinghamshire to learn about bushcraft in a special bushcraft weekend.
Come and take part in a number of bushcraft activities and visit areas of the Museum that are not usually open to the public. Try your hand at making natural cordage, learn some historic fire lighting techniques, have a go at shelter building in the woodland and see if you can find all the items in the scavenger hunt. The Museum has 3 orienteering courses that you can try and Denham Air Cadets will be on hand to help you find the markers.
Come and attend a 'Wild Larder' tour with Kev Palmer who has been working as a bushcraft instructor for 18 years. He'll show you which of the wild plants, found in the Museum's woodland, can be used for food and remedies. Kev has been fortunate enough to have worked in a range of different countries and environments, training bushcraft leaders.
Activities run from 11am – 4pm. Full details at www.coam.org.uk
---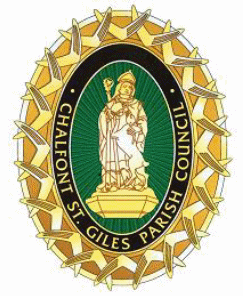 We have been notified that the Chiltern Large project scheme is now live- deadline for applications must be submitted by no later than midnight on 4th August.
Funded projects must be made available to all the community and may include the provision or improvement of the built and/or natural public realm. Proposed projects must be supported by the community and may link to identified needs such as those detailed in the Chiltern and South Bucks Open Space Strategy, the Chiltern and South Bucks Playing Pitch Strategy and the Indoor Sport and Leisure Facility Strategy.
Please follow this link to apply with access to the other supporting documents :- https://www.chiltern.gov.uk/Largeprojectsfund
NB- there are two online forms to complete.
Headlines:
Maximum grant up to £40k
All funding awarded should be match funded by resources allocated to the project. This can include assets, volunteer time and financial resources.
A detailed proposal must be submitted to Chiltern District Council by 4 th August 2019 using the web form provided
Projects will be forwarded funded but must be delivered by 31st March 2022
~~~~~~~~~~~~~~~~~~~~~~~~~~~~~~~~~~~~~~~~
Neighbourhood Plan for Chalfont St Giles Parish
2014-2036
The Parish Council would like to thank everyone who voted in the Neighbourhood Plan referendum last Thursday.
1049 people voted which represents 22.76% of the electorate.
The question asked in the referendum was:
"Do you want Chiltern District Council to use the Neighbourhood Plan for Chalfont St Giles Parish to help it decide planning applications in the neighbourhood area?"
961 voted 'Yes'. 88 voted 'No'.
So a magnificent 91.6% voted in favour of the Neighbourhood Plan. A fantastic endorsement of the work carried out since 2012 to gauge the feelings of the Parishioners of Chalfont St Giles on planning matters. The Parish Council would like to thank the Neighbourhood Plan working party, headed by John Bradley, for their diligence and tenacity in developing the plan.
The next step is for the Parish Council to adopt the Neighbourhood Plan and this will take place at the Parish Council meeting on Wednesday 3 July.
Chiltern and South Bucks Council who are the local planning authority will also need to adopt the plan and ensure that their policies are in place to incorporate the Neighbourhood Plan policies into their development plan for the Parish.
Our thanks also go to the volunteers in Chalfont St Giles Community Library and Jordans Village Store for holding copies of the Neighbourhood Plan and for fielding so many questions about the plan and the process of the referendum.
---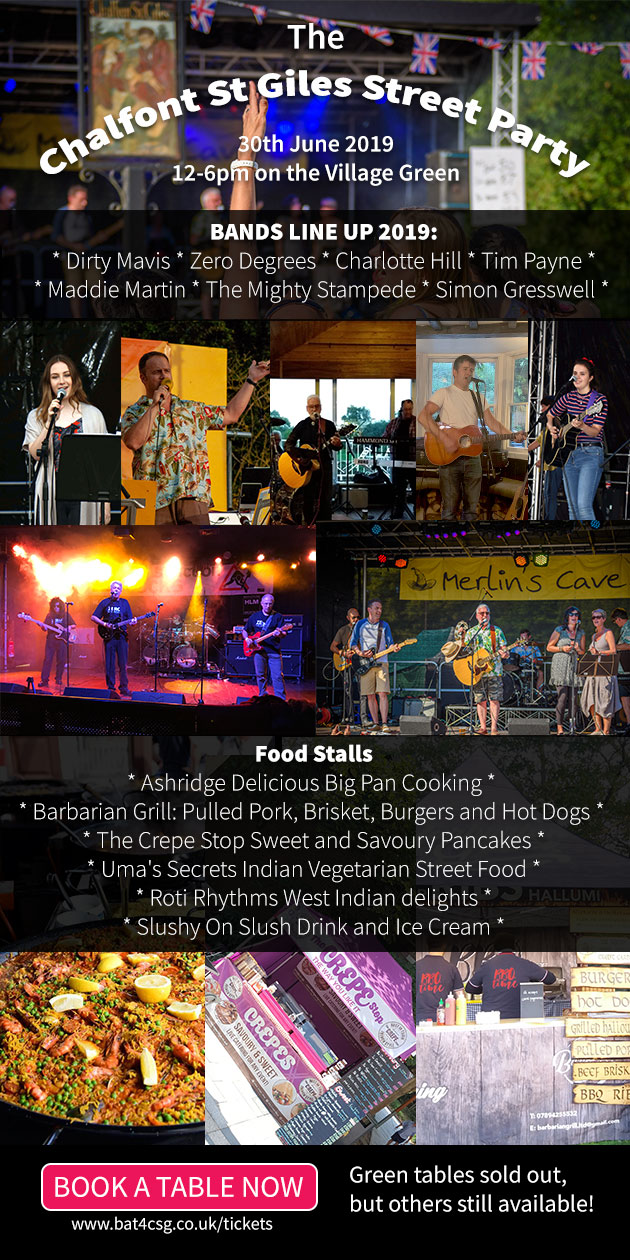 ---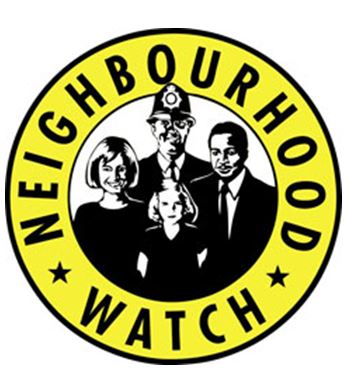 CRIME DROPS BY 11 PER CENT IN NEIGHBOURHOOD WATCH AREAS, RESEARCH REVEALS
Residents living in areas covered by Neighbourhood Watch can expect to experience 11% fewer crimes, the leader of the crime-prevention movement has said today (17 June).
Research from Nottingham Trent University (NTU) found that if a household were transplanted from a non Neighbourhood Watch area to an identical area (in terms of population density, poverty, etc.) with the only exception that there was an active Neighbourhood Watch scheme, then this household would experience 11% fewer crimes.
Since the mid-1990s, there has been a significant drop in burglaries according to the Crime Survey for England and Wales. During this period, the research by NTU reveals that burglaries have fallen faster in Neighbourhood Watch areas than others with otherwise identical household and area profiles.
These findings also suggest that vulnerable social groups, including lone parents, social renters and people living in flats and maisonettes, who live within a Neighbourhood Watch area are more protected than others.
The research revealed that 72% of Neighbourhood Watch members live in urban areas, 22% in rural areas and just 6% in inner city areas. However, if asked to join a Neighbourhood Watch scheme, households in inner city areas would be the most eager to do so.
John Hayward-Cripps, CEO of the Neighbourhood Watch Network, said: "The evidence is clear. No matter your background, social class, whether you own your own property or rent, you are safer if you live within a Neighbourhood Watch area.
"The modern day Neighbourhood Watch operates in many different ways and is flexible to how people live and work. Some are run entirely online through social media, others have regular face to face meetings. Whatever works for you, works for Neighbourhood Watch.
"If you're worried about crime in your area or just want to get to know your neighbours a bit better, starting a Neighbourhood Watch could be the perfect project for you. Our website offers a wealth of advice, guidance and help for anyone considering this."
Andromachi Tseloni, Professor of Quantitative Criminology at Nottingham Trent University, authored the different components of the research in collaboration with Professor Ken Pease, Dr. James Hunter and Ferhat Tura.
The news is revealed at the start of national Neighbourhood Watch Week, which runs from 17 – 23 June, which aims to present a more rounded view of the world-famous movement using the hashtag: #MoreThanYouExpect.
All week, Neighbourhood Watch Network will be highlighting their volunteers work in areas not traditionally associated with the organisation such as tackling knife crime, loneliness and scams.
More information about Neighbourhood Watch, including the ability to join or register a scheme, is available at: ourwatch.org.uk
~~~~~~~~~~~~~~~~~~~~~~~~~~~~~~~~
Today marks the start of Neighbourhood Watch Week 2019 where we'll be celebrating the amazing work our volunteers do in their communities. We'll be looking at areas where you expect Neighbourhood Watch to operate in and around (burglary) as well as some more unexpected ones (knife violence and social isolation).

Our message this year is that when it comes to Neighbourhood Watch, there is #MoreThanYouExpect.

To kick start the week we have today launched Neighbourhood Watch Inspiration, a collection of the most innovative work being undertaken by our volunteers across England and Wales.

The database contains examples of how Neighbourhood Watch groups are changing their communities for the better. In each case, volunteers explain how they developed their project, the impact it had on their community and how they overcame any challenges.

Neighbourhood Watch Inspiration allows users to contact the author of each example with the hope of generating fruitful conversations between members.

Get involved!

Stay connected with Neighbourhood Watch on Facebook and Twitter where all this week we'll be showcasing the full range of activities our volunteers undertake to improve their neighbourhoods using the hashtag: #MoreThanYouExpect.

We're encouraging members to tell their stories on social media. How has Neighbourhood Watch helped your community? Why should people start their own schemes? Be sure to use our hashtag when you post!

If there's just one thing you do today, please share our Facebook and Twitterpost's with your friends, families and neighbours.
---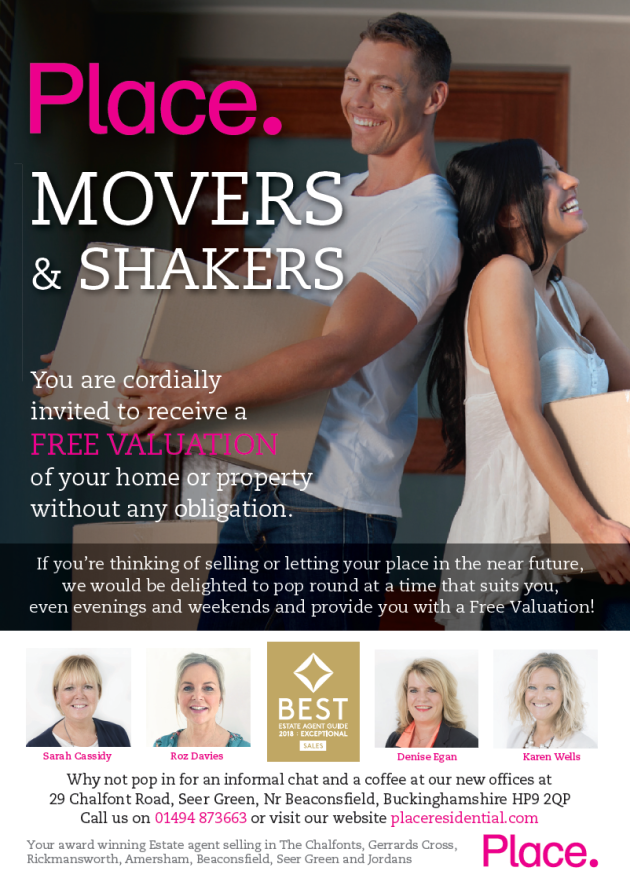 ---

Thames Valley Police will be holding a "Have your Say" session on 24th July 11am-2pm in Costa Coffee, Chalfont St Giles with PCSO Tugwell and PC Cumming.
This is a chance to meet your local neighbourhood officers to discuss local issues.
---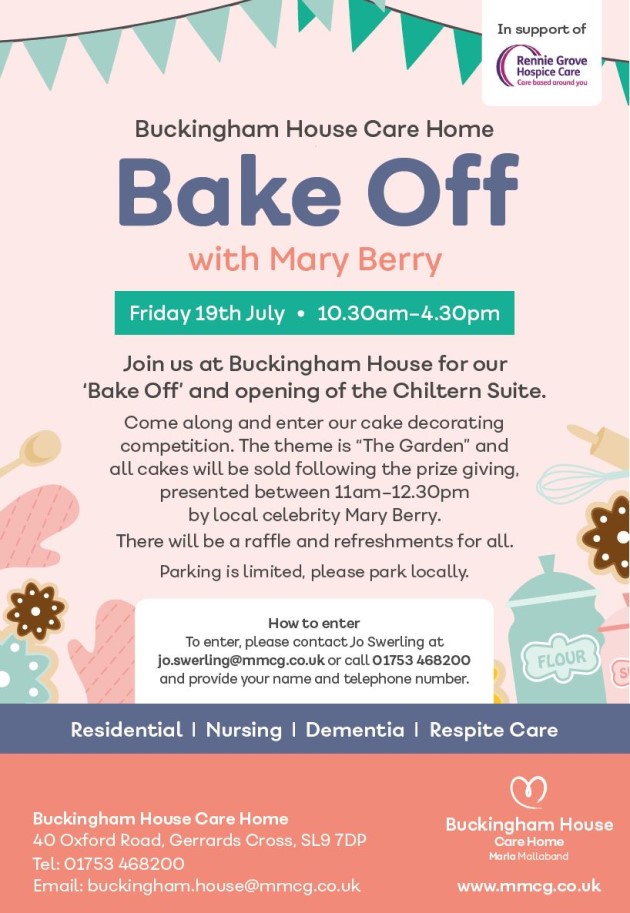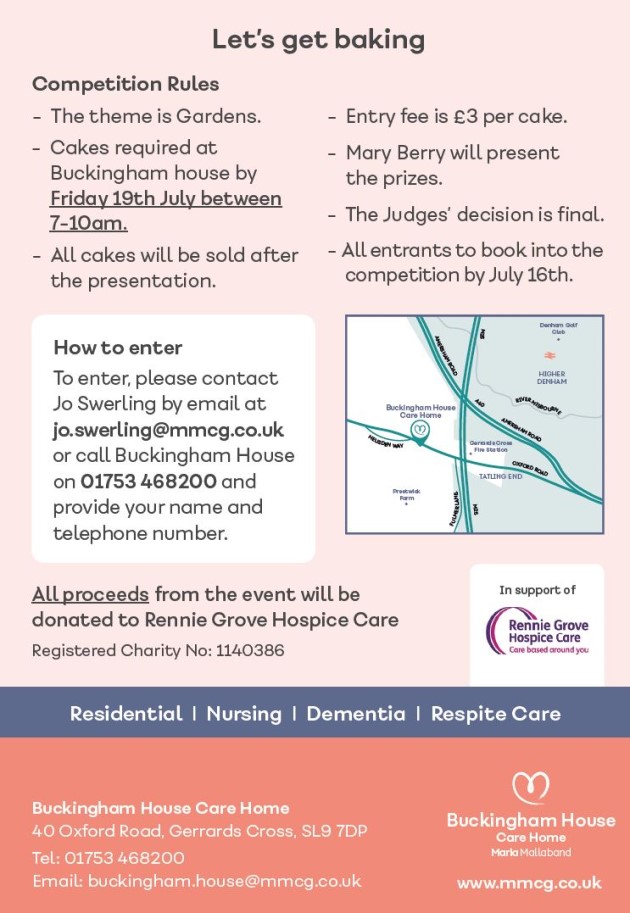 Friday 28th June 2019 – National Care Home Open Day 11.00 – 4pm please pop in and have some light refreshments & meet our friendly team. Buckingham House is a beautiful care home in Gerrards Cross.
Wednesday 3rd July 2019 - Coffee Morning 10.30am – 12 noon please join us for coffee & cakes. ( 1st Wednesday in each Month)
Wednesday 17th July 2019 – Memory Café 3.00 – 4.30pm please join us for coffee & cakes bring your loved one along( 3rd Wednesday in each month)
Friday 19th July 2019 – Buckingham House – Bake Off – Local celebrity Mary Berry will present prizes 11.00 am – 12.30 cake competition theme "Gardens" & Opening of the Chiltern Suites . To enter the cake competition please email Jo or call 01753 468200.. All of the cakes will be sold proceeds to Rennie Grove Hospice ( charity no 1140386). Lets get baking !
---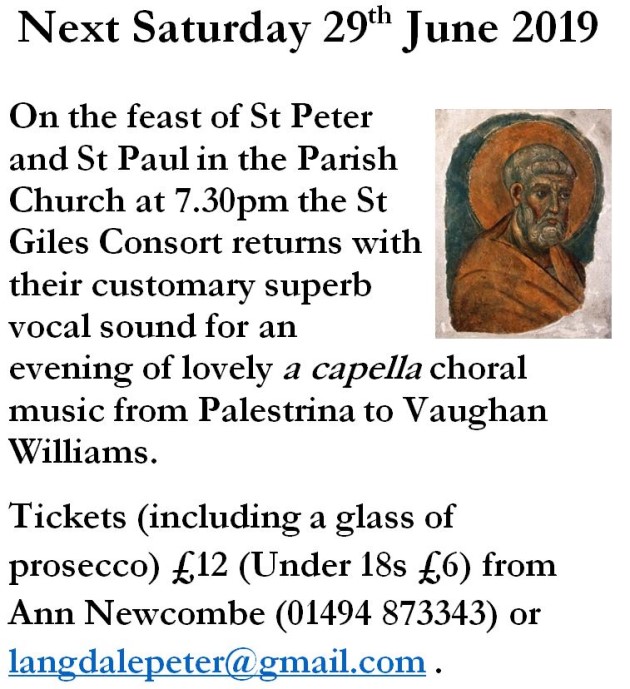 ---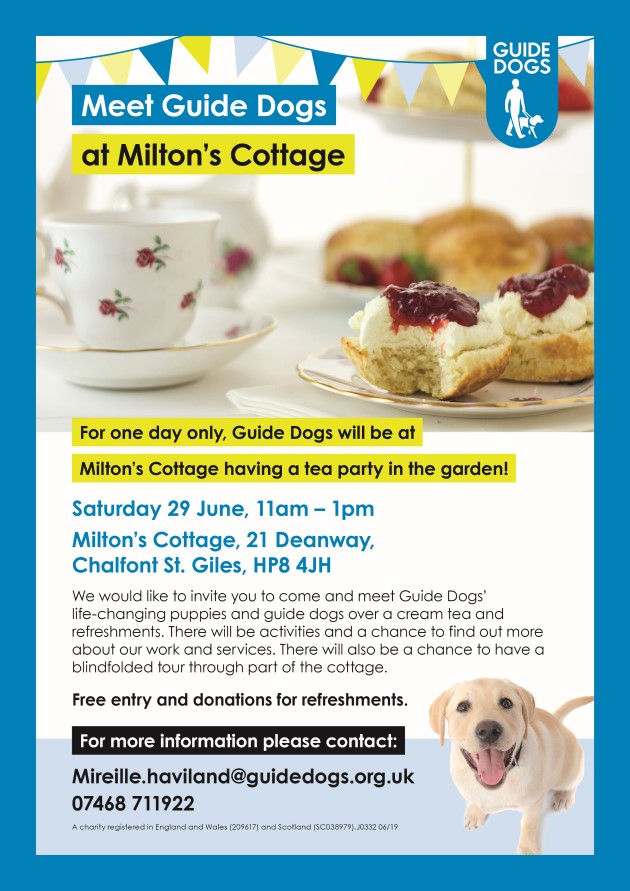 ---

Chalfont St Giles Gardens Association's Visit to Lindengate Mental Health Charity
"Our trip to Lindengate proved to be a truly enlightening and inspiring evening, despite the inclement June weather. The charity provides a calm and nurturing environment for those with mental health issues and what they have achieved in the five years since they started is truly incredible. There are wetlands, wild flowers, cut flowers, vegetables and fruit, with themed garden areas and raised beds for wheelchair users to access. Their ethos stems from the belief that if you nurture nature, nature will nurture you and what really comes across is the peace and beauty of the place. It is no surprise that the charity is successful in their aim to improve the wellbeing of those who come seeking help and they hope to be part of an NHS referral scheme before too long.
They have various projects ongoing, such as providing a habitat for rare butterflies and developing a stock of indigenous black poplar trees. They are also experimenting with disease-resistant elm trees to see if the plants grown from seed will be as hardy. All very valuable work in partnership with other organisations.
We enjoyed a guided tour round the gardens in small groups, learning about the history of the charity and the work they do, followed by tea, coffee and delicious strawberry tarts from Stratton Bakery. We left Lindengate feeling privileged to have experienced this magical place".
The Drop-in events are an ideal opportunity to explore the stunning 5-acre garden and find out how Lindengate helps people with mental health needs. These are scheduled on Friday 21st June 5.30pm - 8.30pm, Wednesday 3rd July 5pm - 7pm, Saturday 13thJuly 10am - 12noon, Wednesday 11th September 5pm - 7pm or Saturday 26th October 10am - 12noon.
In addition, under the National Garden Scheme, Lindengate will be open to visitors on Friday 6th September 6pm – 8pm and Sunday 8th September 2pm - 5pm.
To view details of Lindengate's work please click this link https://lindengate.org.uk/ where you will find a wealth of information and contact details.
---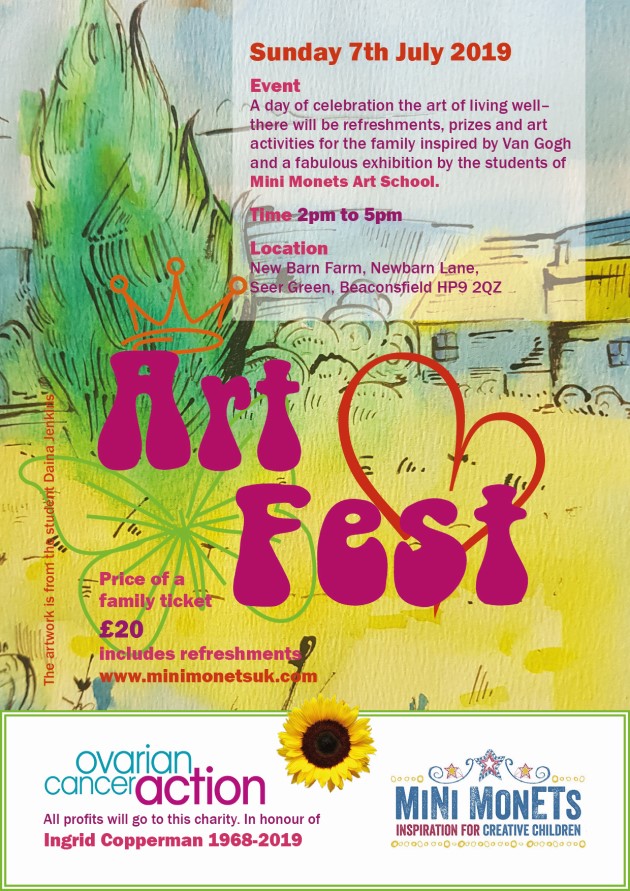 ---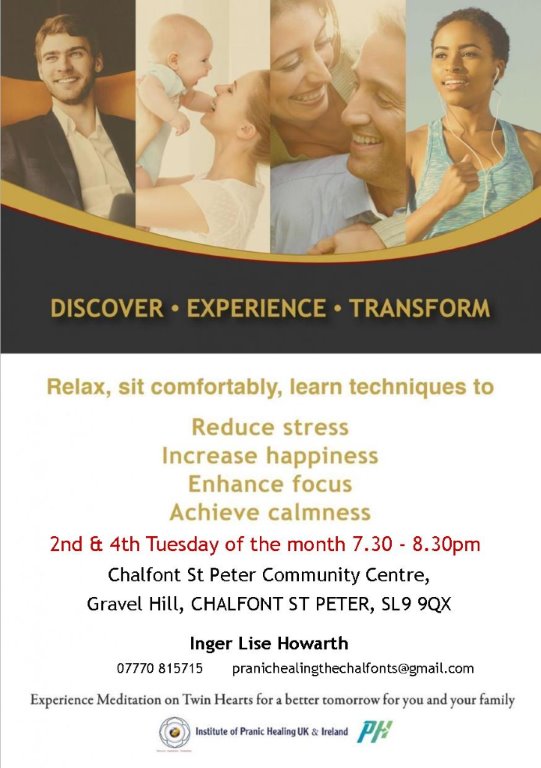 ---

Full report from last week here.
---
Weekly roadworks update
During the course of this week, Transport for Buckinghamshire will be carrying out work in the following places as part of the Strategic Highway Maintenance Programme. As some activities depend on the weather, dates shown are subject to change at short notice.
Weekend working is scheduled in some places as specified below.

Carriageway surfacing
Nightingales Lane, Little Chalfont – A413 to Cokes Lane (17/06/2019 to 19/06/2019)
Surface dressing preparatory patching works taking place using a day time road closure between 09:30 to 15:30 hrs
Narcot Lane, Chalfont St Giles – Narcot Road to Woodlands Farm (20/06/2019 to 28/06/2019)
Surface dressing preparatory patching works taking place using a day time road closure between 09:30 to 15:30 hrs