Housing Group Targets Village Green Belt
The following has been requested to be published here by the Protect St Giles Green Belt Group. If you're concerned about the loss of green belt surrounding St Giles then you might find this of interest.
The unique charm and character of Chalfont St Giles is under threat!
The Paradigm housing group intend to build a yet undisclosed number of affordable homes/social housing on the plot of land to the rear of Stylecroft Road/High View. They are attempting to gain community consent via this survey, designed to meet their objectives.
This represents further destruction of the green belt!
This proposal is NOT included in the Local Plan nor in the Neighbourhood Plan (which was recently accepted at a local referendum by a massive 92% of voting residents). It is speculative, unplanned & UNWANTED
The proposed site is crucial in protecting the boundary between St Giles and the Chalfont Common area of St Peter. Further encroachment will see the loss of the individual character of St Giles and we'll end up with a "Chalfont City" amalgamation
How will this affect you?
Increased congestion
Longer waiting times to see a GP
Increased competition for school places and local resources
Our Recommendations for completing the Paradigm Household Survey
Part 1, 3 & 4 Mark as non-applicable (it is asking for highly personal information which you will have no control of once given)
Part 2 Tick the No priority boxes for all types of housing (Q16-17) and object in your own words in Q18
Please act now because we genuinely believe that responses to this survey will be key in whether planning permission will be granted.
Need Help / Want to Discuss Further
Please e-mail protectstgilesgreenbelt@gmail.com
Editors note with regards to the survey that may have come through your door.
If you try to fill the survey in on-line you can't progress beyond Q13 without answering personal information regarding your physical ability. There are other sections that must be answered later in the survey too, which you may not wish to answer.
---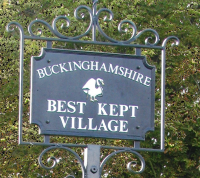 In 2018 Chalfont St Giles Village entered the Buckinghamshire Best Kept Village Competition and won the Pushman Cup for villages with a population of over 3000.
This meant that in 2019 we were automatically entered into the Tindall Cup which is the 'cup winners cup'. Our competitors were Weedon with a population of under 500, Padbury, Cheddington and Wendover (which is classified as a small town). Although the village has been in this category several times it has never been awarded the Tindall Cup.
This year we had many volunteers turn up to our village clean-up day in May in preparation for the judging in June.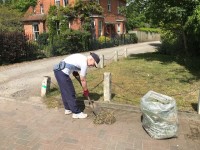 As there was an extra judging category for flower displays, the Parish Council added wild flowers to the A413, Riverside Walk, The Dell and around signs in the village. They also made some much needed repairs to the ornamental water pump on the village green and added a trough of flowers. The trough on Riverside walk was also filled with flowers. Volunteers added flowers to our war memorials in the church yard and outside the Reading Rooms. And the Revitalisation Group added flowers to the containers outside the Library and the near to the village Delicatessen.
Many of the businesses in the village made a special effort with the front of their properties, keeping them clean and free from weeds and adding hanging baskets where possible.
With the extra efforts made by the Parish Councillors, staff and volunteers, the judges were very impressed with the village and have awarded Chalfont St Giles Village the Tindall Cup.
The Tindall Cup will be presented to the Chairman of the Parish Council, Gordon Patrick by Her Majesty's Lord Lieutenant for Buckinghamshire Sir Henry Aubrey Fletcher, on Saturday 14 September at 1pm. The ceremony will take place on the village green.
---
Meet the Riflemen of Wellington's army at
Chiltern Open Air Museum
On the 3 and 4 August, Chiltern Open Air Museum, in Chalfont St Giles, Buckinghamshire, will be transported back in time to the Peninsular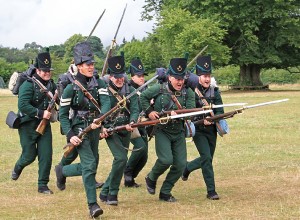 War. Re-enactment group the 95th Rifles return with their fantastic Wellington's Army living history event. Discover what life was like for the soldiers who fought, gossip with the soldiers' wives in the living history encampments and watch the Riflemen skirmish throughout the Museum's quaint Village Green. Marvel at the Rifles' firing display and learn about the tactics which helped them to defeat the French!
Regular visitors to the Museum, the 95th Rifles were founded in 1998 with the aim of representing the lives of the rifleman of Wellington's army who fought in the Peninsular wars and the Napoleonic Campaign of 1815. Their uniforms and equipment are based on surviving examples and the group has dedicated years of research to ensure that their portrayal is as accurate and exciting as possible.
For more information visit www.coam.org.uk
---
There will be no Bounce and Rhyme in the Chalfont St Giles Library this Friday 26th July or the following two Fridays due to volunteer holidays.

They will start again on Friday 16th August.
---
Be aware of the signs of FGM and help protect local girls
Did you know that unfortunately there tends to be a rise in cases of Female Genital Mutilation (FGM) at this time of year? The main reason is that girls can be made to go through the procedure before or during the school holidays so they can recover during the time away from school.
Female Genital Mutilation is illegal in the UK and we can all play a part in spotting the signs of this brutal form of abuse of girls and young women.
It's important that people have the confidence to raise any fears they might have, particularly in communities where people may find it difficult to speak out.
Buckinghamshire Health and Wellbeing Board, alongside Thames Valley Police, the Safer and Stronger Bucks Partnership Board and the children and adult safeguarding boards want to reassure people that any concerns will be treated in the strictest of confidence and will be acted upon.
Common signs to be aware of at this time of year include:
· A girl's parents originating from an FGM practising country and she says she is going abroad for a prolonged period of time.
· A girl referring to a 'special procedure' or 'special occasion' or 'becoming a woman'
· The girl and her family having a low level of integration into the local community
Indicators a girl may have experienced FGM include:
· showing signs of being in pain
· having restricted movement, being off school,
· taking a long time in the bathroom and toilet and
· a reluctance to take part in physical activity.
Martin Tett, Chair of Buckinghamshire Health and Wellbeing Board said:
"This is not an easy topic to have to think about but it's for the safety of girls in our communities that we have to confront it. I urge anyone, particularly people who work closely with children and girls to be vigilant for the signs of Female Genital Mutilation and to speak out about any concerns you might have. It's an inhumane practice and it can cause severe problems and considerable pain – we all have a duty to be aware of the signs and to act to protect vulnerable and innocent young women and girls."
Warren Whyte, Buckinghamshire County Council's Cabinet Member for Children's Services said:
" I hope that by giving out this information that people feel more able to spot the signs of Female Genital Mutilation and know how to do something about it if they are worried about anyone. FGM is a horrific procedure, often performed by people with no medical training without using medical equipment or anaesthetic. It's truly shocking and we want to do all we can to prevent any girls being subjected to this terrible ordeal."
Detective Superintendent Nicholas John from Thames Valley Police said:
"FGM is a form of child abuse. There is no medical reason to carry out the procedure and it is dangerous and is a criminal offence in the UK.
Anyone who reports any concerns can do so in a safe and confidential way. I especially urge anyone who works closely with girls and young women to make themselves aware of the signs of FGM and to know what to do if they have any suspicions."
If you think a child is at risk of FGM you can report it to the Buckinghamshire Safeguarding Children Board. If you think a child is at immediate risk of FGM, for example, if she's about to be taken out of the country, you can report your concerns to the police via the non-emergency number 101 or by dialling 999 in an emergency.
---

Full report from last week here.